The Superbike Championships were lots of fun yesterday. A couple of the races were really close, especially the main event. Jordan Szoke (team Kawasaki) riding a ZX-10R lost in the last curve to Brett McCormick (team Suzuki) riding a GSX-R1000 and even though I was cheering for Szoke I have to admit that McCormick raced exceptionally well and made his pass when it counted, the last part of the last lap.
At least Szoke won the first race against McCormick in the Yoshimura Pro Sport Bike Category riding a Kawasaki ZX-6R against McCormick's
Suzuki GSX-R600. Here are a couple pictures of the races...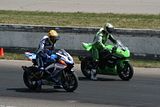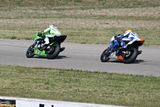 They also had a demo of a couple guys just doing stunts/tricks on their bikes which was seriously impressive. Those bikes get the snot beat out of them though, poor things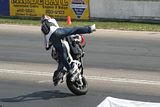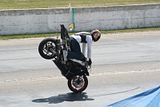 At least the weather was gorgeous although I did manage to burn again, despite the fact that I repeatedly put on SPF 30 sunscreen.
And thats all...