So it turns out that I lied in my last post. I never did go to Hap Ki Do or Jiu Jitsu this morning... I went to both last night and ended up so sore that I didnt have the energy to go today. You should see the bruises I have all over me, I am colourful! Very pretty. (Although I have a couple hickies on my neck now from practicing chokes and the like... so that looks a bit sketchy.)
However! I did get some stuff done today, like many loads of laundry as well as getting my house clean. That makes me quite happy. But since it was too nice to spend the entire day inside I had to go out for at least a little while.
Later I went back inside and decided to lug all my beads downstairs so I could make some jewelry. I made two sets of earrings, plus found the feather pairs I made.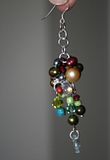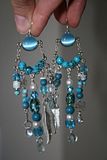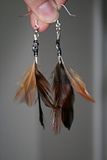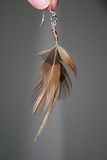 (Click pictures to make them bigger)


I am debating on whether I want to keep them or add them to the pile of stuff to sell at the Collective Market Fair 'Thing' with Hilda.
And thats all....