*Yawn* I am just going to start this post off stating that insomnia seriously FAILS. One hour of sleep is not enough.
Although the weekend didn't start off in the best light (apparently california sushi rolls and I don't get along so well), by saturday I was feeling fine and after cleaning the house and going shopping with my mom I was ready to go out to my friend Rodiel's birthday party.
We went to a bar/pub called Aussie Rules, complete with duelling piano's that take requests and encourage you to be as loud as you want and to stand on your chairs, it was a good night!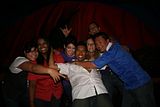 (clicky to make bigger)

Sunday was nice and lazy, my only task to fold about 5 loads of laundry but I did that while watching a movie so it was all good. Then that night my parents took Mike and I out for dinner at one of our favorite pubs, it was delicious and the company was even better.
Now time to buckle down and get some writing done this morning!
Ganbare! (Do your best!)